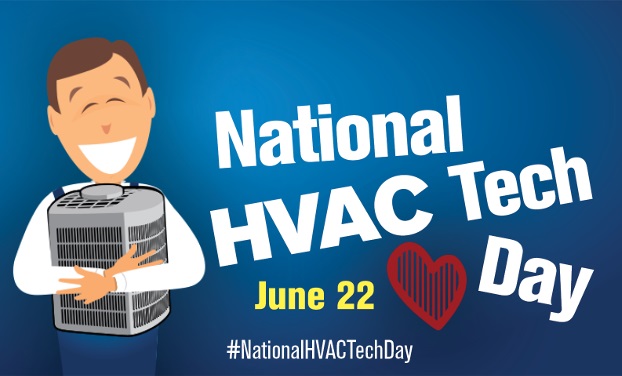 National HVAC Tech Day!
With the days heating up, June 22nd is a perfect day for National HVAC Tech Day!
Today, many of us take the indoor comfort for granted. But it's the technicians who keep our HVAC systems running, day and night. If that's not reason enough to show them a little love, here are a few more:
Extreme conditions are just another day at the office for an HVAC hero.
A few hours without AC or heat may be uncomfortable for us, but imagine working in those conditions every day of the week! HVAC technicians tirelessly brave the sweltering heat and numbing cold to restore our comfort, often at the hottest and coldest times of the year.
They go everywhere you'd hate to be!
Crawl spaces, attics and all points in between—that's where you'll find an HVAC pro. Depending on the age and condition of the building, they may run into anything from dust, debris and cobwebs to pests and critters, mildew and claustrophobic close quarters.
Want your next HVAC system to maximize your energy savings and save you money?
Here at Sam Pollard and Son we can help you choose the right equipment for your home's needs and your family's heating and cooling habits. We offer different thermostat options that range from set-it-and-forget-it simplicity to real-time smartphone controls with power usage tracking.
The savings don't stop there! Regular maintenance, provided by our trusted HVAC technician, helps keep your system running at peak efficiency. That prevents energy waste and minimizes wear and tear that can shorten the life of your HVAC investment.
…and they help you live greener!
Don't forget that saving energy means saving the earth's valuable resources. When an HVAC professional helps you select and maintain efficient heating and cooling systems, he's also helping you reduce your carbon footprint.
Call today to meet one of our HVAC hero's!