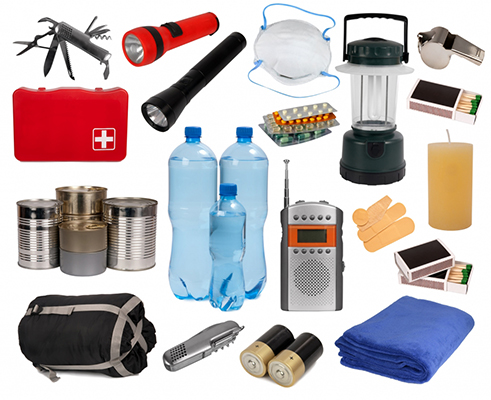 Hurricane preparedness tips
Hurricane Irma, one of the strongest Atlantic storms ever, is pounding the Caribbean and heading toward the United States. Although its path can't be accurately predicted by experts, there's a possibility that the storm will impact us here in Greenville, NC.
Are you and your home prepared?
Hurricanes pack a one-two punch: destructive winds and heavy rains. The storms leave behind downed trees, damaged homes and buildings, and widespread flooding of rivers and streams. (Remember our area after Hurricane Floyd and, more recently, Hurricane Matthew?)
Eastern North Carolinians must deal with hurricanes so often that it's become second nature, making it easy to downplay the dire forecasts.
But it's in the best interests of you and your family to heed the warnings and take precautions. It's better to be safe than sorry, right?
While the area is bracing for possible impact, here are some thing you can do right now, adapted from FEMA.gov and ready.gov.
* Make a Hurricane Preparedness Kit in a plastic bin with a lid. Include flashlights and batteries, a first aid kit and prescription medicines, a Swiss Army Knife and a whistle to signal for help.
* Plan for adequate non-perishable food and water supplies if you are without electricity and water for several days. Include plastic plates, cups, bowls and utensils. Don't forget a manual can opener and moist towelettes. And make sure to include pet food and extra water for your pet!
* Buy some large, strong plastic bags and duct tape. Both can be used in a variety of ways.
* Know where you will go if you are forced to evacuate — either local shelters or a hurricane evacuation route.
* Fill the car with gasoline.
* Charge a cell phone.
* Withdraw some cash from the bank.
* Trim or remove damaged trees and limbs.
* Secure loose rain gutters and downspouts and clear any clogged areas or debris.
* Secure or bring in all outdoor furniture and objects that could become missiles.
* Purchase plywood for securing and reinforcing the roof, windows, and exterior doors including garage doors.
* Make sure your home insurance policy is current. Put a copy of it in a plastic bag to protect it from water, and place it in a bag you can grab if you're evacuated.
* Take pictures of your property and its contents for insurance purposes.
* Put valuables and personal papers in a waterproof container and place it on the highest level of your home.
* Set the refrigerator to its coldest setting.
* Use your ice maker to start filling plastic bags with ice. Place the ice bags around items in your freezer.
* Put beach towels on your windowsills to soak up water that may seep in from the driving rain.
We at Sam Pollard & Son hope you stay safe during Hurricane Irma and always.